Variety Santa Fun Run and Merry Markets
Event Info
DATE TBA
Event Information
Date:
Sunday 8 December 2019
Note: The Run/walk event is teaming up with the Merry Markets at the Station (old Newcastle Rail Station), so there will be lots of do, see, buy, eat and drink for everyone. For those just attending the markets, admission is free. For those participating in the run/walk, there is a entry fee to cover the cost of the event and raise some funds for Variety.
Event options and start times
8.30am - 2 lap Santa Fun Run

– approx. 10km (2 X 5km) course from the Station

9.00am - 1 lap Santa Fun

– approx. 5km course from The Station Newcastle
Start and Finish Locations for both events are:
The Station, crn of Wharf, Watt or Scott St Newcastle.
Entry Fees:
| | | | |
| --- | --- | --- | --- |
| Event | Until 10 Nov | 11 Nov - 7 Dec | Event Day |
| Adult - Santa 5km | $35 | $45 | $55 |
| Child – Santa 5km | $25 | $35 | $45 |
| Family – Santa 5km | $90 | $120 | $140 |
| Adult - Santa 10km | $45 | $55 | $65 |
| Child - Santa 10km | $35 | $45 | $55 |
| Family – Santa 10km | $110 | $130 | $140 |
Free Santa Suit
Every entry will receive either an adult or child size Santa Suit. This is can be collected on Race weekend with your race bib or see below option.We are not offering a mailing option this year.
Santa Suit and number collection options
Collection of Santa suits and event number bibs will be possible from:
Monday 2 Dec - Friday 6 Dec, from 10.00am -4.00pm at our presenting sponsors rooms, Newcastle Family and Sports Podiatry - 51 Denison Street Hamilton, Newcastle.
Sunday 8 Dec - from 7.00am - 8.45am at the Station on crn of Wharf Rd, Watt and Scott St, Newcastle
START TIMES AND LOCATION on Sun 8 Dec, 2019
All events start from and finish at the Station off Wharf Rd or Scott St Newcastle. The 10km runners/walkers will start at 8.30am and the 5km runners/walkers can start at 9.00am. Make sure you give the lappers for the 10km plenty of applause!
Race Entry
On line run entries are available on www.santafunrun.com.au until midnight Thursday 5 Dec or on race weekend. See details below. Note Entry to the markets is free.
Race Registration (collection of race bib and Santa suit)
Please bring photo ID to collect your kits. If collecting for others you need written permission and photo ID for yourself. We suggest Team captains make the pick-up arrangements very clear to avoid collection or non-collection of kits.
SUNDAY 8 Dec 2019 -Race Day !
Both 5 and 10km events - The Station, (old Newcastle Train Station) off Wharf Road Newcastle
Corporate or Team Entries
If you are wish to pre or post pay for a large number of competitors for your company and or organisation, please contact us and we can provide you an option to allow them to enter without paying and we will send you an account for payment prior to the event.

Contact paul@hevents.com.au
Age Categories for 10km event
Adult entrants in the 10km event will automatically be assigned to their respective age categories when entering their date of birth during the entry process. Ages are as on race day. Adult age Santa Categories are: 18-39, 40-59, 60+.
Children 8 -11 years can enter the 10km but we encourage them to only walk, however all children under 12 years should be accompanied by an adult walker/runner. Strollers are allowable in the walk however should start at the rear of the pack and stay to the left on the break-wall. Children will be entered into following age categories: 8-11(walk only please), 12-13, 14-15 and 16-17.
Note the 5km is a participation event but we will have age category awards are given. Overall Winners will receive trophies.
Prizes
Medals will be awarded to 1st, 2nd, and 3rd prizes in all age categories for the Speedy Santa. Overall Male and Female winners are also awarded Trophies in both events. Random draws or participant race numbers will take place during all presentations with great prizes awarded!
The presentation of awards and prizes will be made as at approximately 10.30am on the Market St Lawns opposite the finish line.
Event Timing
Everyone will receive a timing chip to record their time. This also allows us to account for our Santa's. Computer timing chips will be distributed to each competitor. Please remember NO CHIP equals NO RESULT. Interim times will be available live on race time. PLEASE WEAR YOUR RACE BIB (race number) ON YOUR CHEST FOR THE ENTIRE RACE.
Secure Bag Area
A secure bag area will be provided at the Registration area at The Station for all competitors
Parking
Paid parking will be available at Bolton St Car Park, 500m from the site in Newcastle CBD. There is also additional paid parking in the Wharf Rd along the Forshsore. There are no road closures for this event.
·Please do not park in driveways and respect the Sunday sleep-in by keeping noise to a minimum.
Water/Aid Stations
Aid Stations will be situated no more than 2.5km apart. Water and Electrolyte drinks will be available at every station. Fruit will be available at the end of the race.
Wheel Chairs
The event welcomes all participants, and encourages active participation by all individuals in sports events. The course has a concrete path surface the whole way and we encourage wheel chair categories in any of the events. Please contact us directly if you have any concerns or queries.
Volunteers
The event requires over 40 race crew from Variety, local Running and Surf Life Saving Clubs and the general community. If you are interested in helping out, register HERE and we will put you in touch with the volunteer coordinator.
Results
Results will be available live on race day. They will be published on line later that day.
If you wish to know your time on race day, we will have a computer available to view your time.
Event Management
The event is owned by Variety the Children Charity and is being staged and managed by an event manager, H Events. All monies are collected and all bills are paid by the event manager, including a guaranteed fee to Variety from entries above event costs.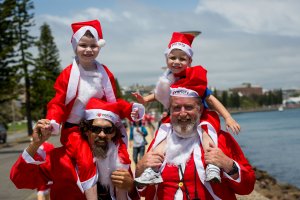 Share:
Event Races
Course Video
Updates